Creating a Contact
In this article, you'll learn how to create your very first contact within your account. We'll use this contact in the next few sections where we'll learn how to send campaigns, create mobile pages and more.
Navigate to Contacts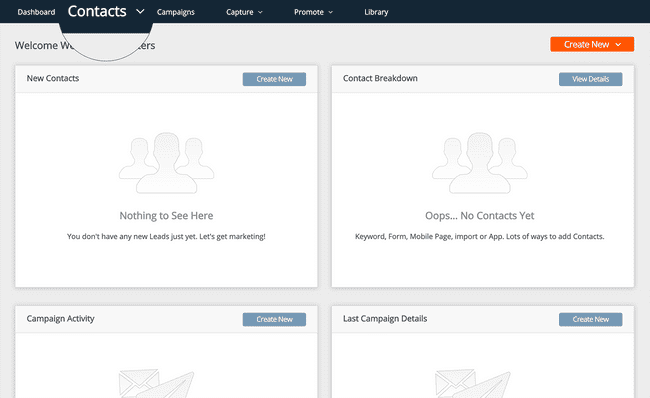 Let's start by going to the Contacts area of the web application. Click on the "Contacts" tab in the navigation menu.
The Contacts area will allow you to create and organize your contact list. You can add contacts to filters such as Lists, and Interests or Tag them to quickly organize and manage your contact book.
Click the Add New Button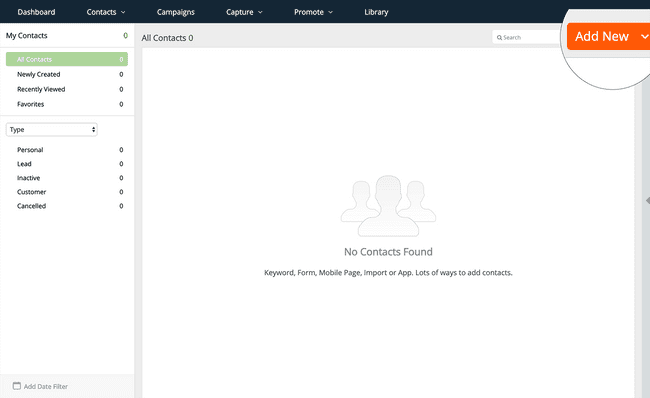 To create your first contact, locate the "Add New" button in the top right corner of the Contacts page.
Select Contact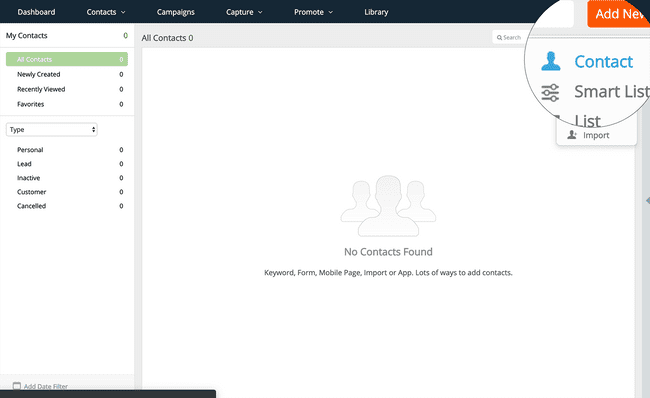 Click the "Add New" button to reveal a dropdown menu.
To create a new contact, click the "Contact" option from the menu. Clicking this option will reveal the right side panel.
Enter Your Contact Info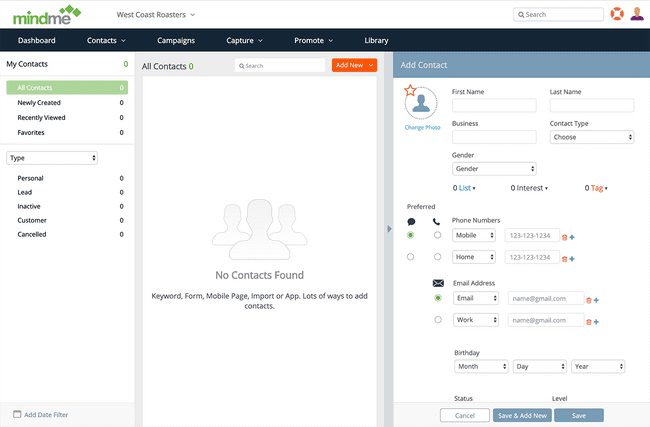 Enter your information in the fields. Please be sure to add an email address and your mobile number for the next section on creating Campaigns.
Best Practice: Make sure you give your contact a type, such as "Customer." You can choose from the options in the "Contact Type" select menu.
When you're finished adding your information, click the "Save" button at the bottom of the side panel.
That's it, congratulations on adding your first contact!
Pro Tip: Do it from Dashboard
While the steps above are simple to follow, there is an even faster way to create a contact.
Click the Create New Button
Make sure you are on your account Dashboard. If you followed the steps above, you can navigate to Dashboard by clicking the "Dashboard" option from the navigation menu.
Once on you account Dashboard, click the "Create New" button in the top right corner.
Select Contact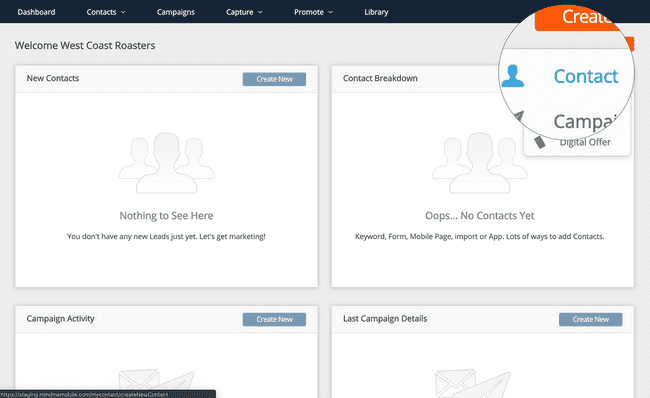 The "Create New" button offers a shortcut to the most used functions in your account.
To create a new contact, select "Contact" from the dropdown menu. The application will take you to the Contacts page and automatically open the right side panel to allow you to quickly create a new contact.
---