Creating a List, Interest, or Tag
The Why
The main organization filters available to you are Lists, Interests, and Tags. For best results with organizing your Contact book, we recommend using a combination of all three to add as much context to each Contact as possible.
Lists, Interests, and Tags are very easy to create and are incredibly useful, especially when it comes to filtering your Contacts when sending a Campaign.
How To Do It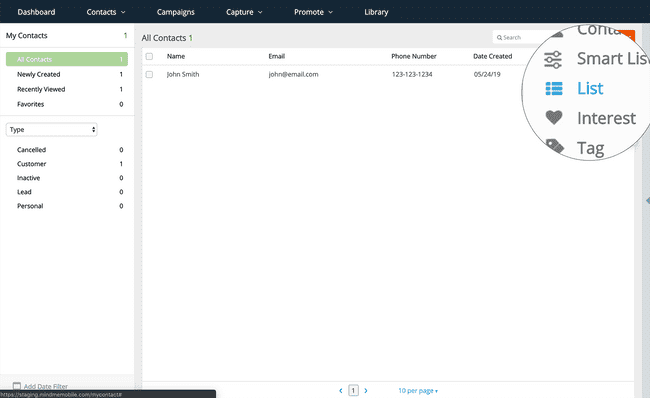 To get started, click the "Add New" button from the Contacts area of your account and choose which you'd like to create. In the case of the example, we selected "List."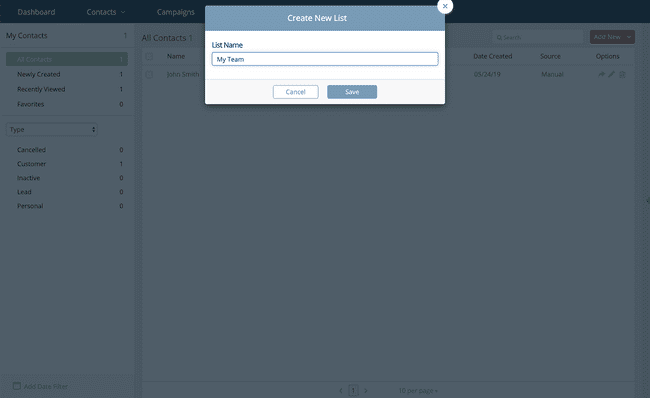 When the pop up displays, simply name your List, Interest or Tag and click the "Save" button. That's it, you now have a List, Interest, or Tag in which you can place new and existing Contacts.
How To Best Use Organization Filters
One of the most frequently asked questions about these filters are when to use which? and what is the main difference between Lists, Interests and Tags?
In essence, all three fill the exact same role, grouping Contacts.
The concept of Lists is used in many popular marketing (especially email marketing) platforms in which your whole contact book is list-based and organized by only lists. We thought about use cases in which simple list-based organization is insufficient and thought about a way to create more granularity with Contacts.
To keep it simple, we recommend:
Thinking of Lists as a global criteria for which to use when grouping similar Contacts - such as "My Staff"
Using Interests as something the Contact is "interested in" - this could be a service you provide, like "Tennis Lessons"
Lastly, we think of Tags as the simplest way to organize a Contact, and thus, you'll likely have a great count of Tags than Lists and Interests combined - use Tags to tag a Contact for coming to an event like "Spring Open House" or by giving more context to customers with a "Regular Customer" Tag.
---